About Us
Dedicated to helping meet your goals...

Thank you for visiting our Janus Group website. We hope your time will be well spent as you browse through our School uses of web technology.

Previous generations knew full well that paper answers, as a solution to organization communications, was outmoded, expensive, and labor intensive. With the introduction of the web and browser enabled tools available to everyone, a remarkable breakthrough to a better way has been found. The folks here at Janus strive to search out those communication opportunities that only the web can take to full potential. On this site, we hope you find some answers to your own systems challenges.

We feel that our innovative applications, as demonstrated here on our site, are only touching the surface of future opportunities and we intend to keep reaching for more innovative, intuitive and informative ways to do things. Please look at our site with your "what if" hat on and try to imagine how our application services might work with your organization's culture.

We hope to hear from you and promise you that we will work with you in a personal and creative manner.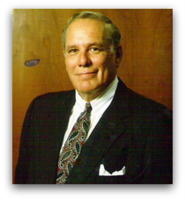 Tyler Potterfield,
Founder, President and CEO of The Janus Group, Inc.

4358 Timuquana Rd Unit 212
Jacksonville Florida 32210
Phone: 904-516-8006
Mr. Potterfield is a graduate of the University of Florida, and has over 50 years' experience in executive management of technology and health provider companies. Immediately after college he joined the U.S. Navy obtaining the rank of LTjg before ending his service and returning to Jacksonville to start his business career.

He first was Regional Manager of a major insurance firm for two decades before founding, and establishing in 1981, one of the largest benefits administrators in Florida – a leading provider of administrative services for employer health plans. His efforts made history in the1980s with his new company's introduction of the first model of managed health care in North Florida. He pioneered the transformative preferred provider organization [PPO] that was to revolutionize health care delivery in modern health insurance plans nationally.

In 1996, Mr. Potterfield founded a sister 2nd company "The Janus Group Inc." The focus of the new company was devoted to the exclusive service to the public school districts of the southeastern United States. Using his company's expertise in technology, the new company began to offer creative uses of the Internet and web to streamline school administrative practices. That company continues operations today in several Southeastern states

Mr. Potterfield's professional activities have included being the president of the Jacksonville Society of Chartered Life Underwriters and chairman of the CLU Educational Trust. He has also served as president of the Mental Health Clinic of Duval County, president of GMAC, and was the founder and first president of Willing Hands Inc. (a not-for-profit training organization involved in providing services to charitable organizations). He also served as director of the Metropolitan YMCA, The United Way, and the Childbirth Education Association, and in his early years as two year President of the Sigma Alpha Epsilon Alumni Association. He has recently served on the Advisory Board of the St John's County Salvation Army and was elected as its chairman in 2015.

He earned his Chartered Life Underwriter degree (CLU), and holds other graduate diplomas from The American College, in organization management, investments and federal taxation. He was conferred The Huebner Heritage Award by his peers as the outstanding CLU in North Florida. The General Agents and Managers Conference of the U.S recognized him as a life recipient of the National Management Award.

He holds memberships in the Sons of the American Revolution, and the Midway Society and Church. Mr. Potterfield is married to his lifetime girlfriend, Meredith of 58 years and they have two grown daughters, Elizabeth and Victoria.